The Right Restaurant Location May Be A Little Off
Everyone preaches restaurant location, location, location. Well they are right up to a point. I have had opened two restaurants that have been in traditionally bad locations, but have both been very successful. Years later I still hear people say "it's because of the location." Yes, when looking to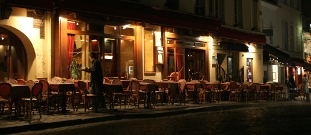 open a new restaurant location is very important, but there is a give and take with location. The better locations have the lease or purchase value already worked into them so you will often find a high sticker price on them. Prime locations can range from two to three times the cost per square foot causing you to have to raise your prices to compensate.
My philosophy is to locate the best area for restaurants in a given area and then pull out a map and start looking at where the future may be. If you are looking to buy or to lease the properties a block off from the hottest traffic areas may be your best option. Granted you have to do your homework. The things you should look at is if it is a heavier crime area (is the area still getting all the needed police protection), does the city have plans to revitalize the area, is their any tax breaks that would be available if you put money into the area, and what is the public perception of the area.
The biggest thing to remember when looking at doing projects off the beaten path is are you going to be special. Are you going to be better than the other guys? Do you have a unique concept? You will have to be that destination restaurant for a while until the public realizes that you have built a great restaurant location. Doing things right, offering a quality product for a good value, and maintaining consistency will make an okay location great.
While the off location location is not for everyone and in every situation it can bring you tremendous value right from the start of your business.

Go to…


From Restaurant Location to Case Studies