The Waikiki Food and Beverage Scene is Hot
Waikiki food and beverage, like Waikiki itself has had many lives and to fully understand it now, it helps to know a little about its history as a resort beach for America's adventurous. Throughout its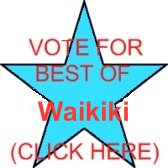 20th century history, Waikiki has been a destination offering crystal blue waters, warm sand and friendly hospitality to those seeking an island getaway in their own back yard. America's rich and famous have been making Waikiki an international destination as early as 1901.
Luxury hotels like the Royal Hawaiian and the Moana Surfrider have been wining and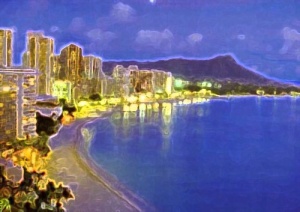 dining visitors for more than a hundred years and are still doing so today. The Mai Tai Bar at the Royal Hawaiian claims to be the site where the Shirley Temple cocktail was made for the first time for the actress it was named after so she could enjoy a non-alcoholic drink while spending time with her older Hollywood peers. These old guard hotels never gave back a step but did have to share the limelight in later years with the likes of the Hilton Hawaiian Village, where in 1957 legendary bartender Harry Yee invented the Blue Hawaii cocktail at the behest of the Dutch distiller Bols. This era, when visitors arrived by Matson steamship at a rate of 100,000 per year, has given way to the jet age which saw over 7 million visitors to the island's shores in 2006. Hawaii has also catered to more casual visitors throughout it's history, especially before 1986, when then Governor George R. Ariyoshi was forced to raise the legal drinking age from 18 to 21 to conform to the national standard. With a lower drinking age, it's no surprise that up until that point, Waikiki was a major destination for spring breakers and recent high school grads and boasted many of the U.S.'s busiest and most profitable night clubs. Dating as far back as the 1940s Waikiki has also provided a retreat for many of America's members of the armed forces. Nothing says R&R like Hawaii! For most of Waikiki's food and beverage history, hotel restaurants and bars had dominated the industry; but in recent years, various independent and chain restaurants and bars have changed the way people spend their vacations. In the past year alone, the number of casual to upscale restaurants has almost tripled with establishments hungry for a slice of the paradise pie. Because of this rejuvenation, Waikiki food is in the midst of a type of food and beverage renaissance. In addition to the opening of major chain restaurants such as The Cheesecake Factory, Yard House, P.F. Chang's and California Pizza Kitchen, among others, Waikiki maintains its unique charm with local treasures like Duke's Waikiki, Tiki's Grill and Bar and The Shorebird who offer Waikiki a sense of place that most are seeking on their vacation. Waikiki, much like the ever-transforming Las Vegas, has lost some of its "sin city" swagger in the past few years and is now a favorite destination for middle-America looking for the magic of an island vacation without leaving the country. So get out there and enjoy all that is Waikiki food and beverage.


Go to…
From Waikiki Food and Beverage to Hawaii Food and Beverage