Tucson Quietly Making A Name For Itself
Tucson, AZ - Once known as a sleepy town of western lore and a golfer's paradise, Tucson's population growth has spiked in recent years and pushed the valley's population well over a million people-prompting a resurgence in the city's nightlife and thriving restaurant scene.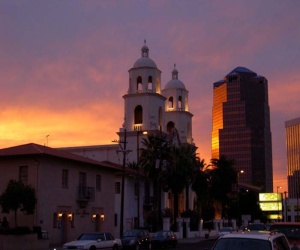 And what a scene it is. At the heart of Tucson's thriving culinary renaissance are the restaurants of downtown: featuring favorites such as family-owned and operated El Charro-one of the top five Mexican restaurants in the country according to USA Today.
The downtown experience includes a myriad of dining choices. Barrio Food & Drink, an upscale eatery just moments from theatre, art and convention events features an inviting atmosphere, an up-tempo bar experience, and a variety of American fare with "regional accents" created by Chef Jeffrey Glomski. A few blocks north of Barrio, Cafe Poca Cosa's Chef Susana Davila is busy serving a unique and never static menu of eclectic Mexican food to her loyal customers. The food at Poca Cosa reflects the cuisine of Central Mexico; i.e. you won't find mounds of deep-fried tortilla variations on her menu, which contains only the freshest ingredients and changes twice daily. Cafe Poca Cosa is highly recommended in a variety of travel websites and magazines as a must-stop location.
An old Tucson favorite, Cushing Street Bar & Grill, provides great food and a comfortable bar experience right across the street from the city's convention center. The adobe buildings that house Cushing Street are listed in the National Historic Register and have been around since the 1860s.
Up-and-comers like Enoteca Pizza and Wine Bar and Casa Vincente, a Spanish restaurant with live flamenco music nightly, also keep the streets of downtown lively on a nightly basis.
But it is inside downtown's crown jewel, The Historic Hotel Congress, where one can find the most intriguing blend of upscale cuisine, exciting nightlife, and interesting characters.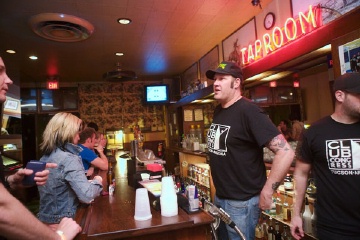 Built in 1919 to house railroad travelers, the Hotel has been a destination for tourists and locals alike for nearly a century, and has pledged to remain the cultural hub of Southern Arizona. The Cup Cafe, the Hotel's award-winning restaurant, features everything from gourmet sandwiches to seafood and pasta dishes, and serves one the best breakfast spreads found anywhere. It is the cafe's rotating dessert display, however, that seems to catch the eye and palate of most visitors. The Cup has a reputation for serving Baker Bill Roberts' dizzying assortment of dessert delicacies-pies, cakes, over sized cookies, and pudding dishes.
The Hotel is also at the center of the city's nightlife. Locatedunderneath the Hotel's forty historic rooms is Club Congress, named one of the best bars in America by Esquire Magazine and Entertainment Weekly, and called "classic" by Playboy Magazine. Also voted best nightclub in Tucson five years running, the legendary live music venue has showcased up-and-comers from all parts of the globe and within every genre of music from Nirvana to Interpol. Open seven nights a week, Club Congress is the destination of choice for many of Tucson's late-night adventurers.
The Hotel is at the gateway to Tucson's world famous bohemian strip, Fourth Avenue, which houses a majority of the city's most popular bars in eight-tenths of a mile packed full of vintage shops, quirky dive restaurants, and eclectic art purveyors. Among the nightspots found on "the Ave" is Plush; one of the best places to see live music in Arizona with a new state-of-the-art sound system and one of the most comfortable lounge experiences found anywhere. A little further down the avenue arethree bars frequented primarily by the college crowd: O'Malley's, The Hut, and Maloney's Tavern. A Thursday night favorite, O'Malley's features live music several times a week and a two-for-one drink special that packs a punch. The Hut, a converted airplane hangar with a spacious patio, provides live entertainment most nights with a tropical theme. Maloney's is one of several locations for the Phoenix-born Mastro Corporation, and is one of the highest volume bars in the state. The bar shows classic movie clips periodically and boasts two large bars, twopatio bars, pool tables, and a dance floor.
Another worthwhile stop is the Buffet, the oldest bar in Tucson. From its rugged, sunlight-free interior covered in graffiti to its shuffleboard table and "Happy Minute" drink special, the Buffet is an integral part of many Tucsonans' drinking experiences.
Still, much of Tucson's restaurant and bar business is bolstered by The University of Arizona's 36,000+ students... and as a result, the university campus has cultivated a variety of great watering holes within walking distance of Fourth Avenue. Gentle Ben's Brewery, one of three local Tucson-area microbreweries (Nimbus, Thunder Canyon Brewery, and Gentle Ben's), has been serving cold, frosty glasses of its home brews to students for 35 years, and is a favorite spot for lunch in between classes. But if it's a large draft selection you are looking for, look nofurther than across the street to Frog and Firkin, a loosely-themed English pub with one of Tucson's most popular patio dining experiences.
Students also flock to Tucson's only authentic Irish pub, The Auld Dubliner. There, bartender-managers Keith Caywood and Adam Radspinner have built a loyal clientele with their flair for modern cocktails and their attention to detail.
Off the beaten bar path is one establishment that continues to leave its unique stamp on Tucson's nightlife. The Shelter, a beloved '60s cocktail lounge built in a vintage bomb shelter, is decorated with pictures of President Kennedy and prides itself on some of the best classic martinis in town.
Tucson Dining Experiences of Note:
Cafe Terra Cotta - An innovative bistro with a wood-fired brick oven and a focus on products produced in the Southwest.
Gavi - An upscale Italian restaurant featuring three locations and an extensive wine list
Janos - La Paloma's high end restaurant experience overlooking the city from the foothills, Chef Janos Wilder's restaurant has received AAA's Four Diamond Award fourteen years in a row.
The Grill at Hacienda Del Sol - Winner of Wine Spectator's "Award of Excellence", The Grill at Hacienda Del Sol offers dishes made with herbs and vegetables hand-picked from the restaurant's own gardens.
Kingfisher - Also a winner of the Wine Spectator "Award of Excellence", this perennial local favorite calls itself "An American Bar & Grill," but you can find influences from places as far reaching as France. Known for their fish and shellfish dishes.
Mi Nidito - A quaint, traditional Mexican Restaurant visited in 1999 by President Bill Clinton has since been serving "The President's Plate," which has quickly grown into their most popular dish.
By Aaron DeFeo


Go to…