P. Nicholas Senato Brings You
Pensacola Food and Beverage
Hello my name is Nicholas Senato I am the Pensacola food and beverage underground insider. I love Pensacola and the Emerald Coast. There is much to do and lots of great places and events to report on.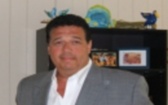 I have been in almost every aspect of the food and beverage business. I have been in operations as an executive, owner, franchisee and an entrepreneur both small and large. My love has always been the"soul" of the business. Many of you reading my reporting will definitely understand what I describe as the "soul".
The "Soul" of the business is that of every owner and manager. These are the folks that have an idea then the idea becomes a dream, the soul turns the dream into reality and that girls and boys becomes our favorite place for a cold beer, a delicious nosh, a romantic place for a date and a family tradition spot. These restaurateurs' and bar keeps are the soul of what America is truly all about. From small business (one location) to multi city locations, to regional demand and success and sometimes even on to national locations.
They all start with the idea of "if I owned the place I would…"Through our journey together we will ask that question and meet some people with the soul for the food and beverage scene in Pensacola and the surrounding area. I will write about our business from Pensacola to Pensacola Beach. There is plenty to write about, many cool events to go to and great food here. We will explore my finds and look close up at the things you love to do.
So girls and boys pay attention you may even see your picture or name here as an "insider" on my scene.
PNS

Go to…


From Pensacola Food and Beverage to Florida Food and Beverage Scene
Nicholas Senato Personal Invitation For Articles
This invitation form is for Nicholas Senato articles. If you would like to be an "Insider" for your city let us know via the "Contact Us" page on the site.
What Other Visitors Have Said
Click below to see contributions from other visitors to this page...

Shawn Johnson Not rated yet
I have been working in the restaurant industry for 17 years and love every aspect of what i do.the last place i worked at,Finnegans Wake on 9 mile rd,was …