Maui - Valley Isle Vibe
Despite being 2500 miles from the nearest landmass, the countless dining venues in Maui will leave you feeling anything but isolated. Boasting some of the best seafood to be found anywhere on the planet and some of the most picturesque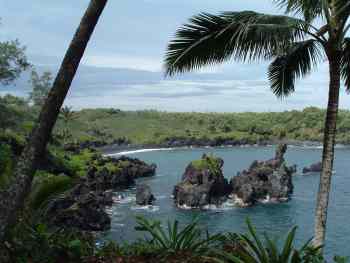 sunsets you will ever cheers to, Maui is quickly becoming a favorite location among global foodies seeking an experience rather than just a meal.
Maui has three very distinct regions which continue to bring faithful visitors back year after year, and lure plenty of new faces to the island seeking a taste of the pacific-inspired dishes.
Wailea
Located on the southern side of the island, Wailea is home to some of the most beautiful beaches in the pacific and an array of restaurants for any budget. This shoreline offers great views of the surrounding islands of Maui County, as well endless opportunities to take in the famous Maui sunsets. For the perfect combination of food and ambiance, try Nick's Fish Market or Sarento's.
Paia
Take a drive to the North Shore of Maui for a trip back in time, as you pull into the town of Paia you'll get a feel for what Maui might have looked like 40 years ago. But, don't let the rustic outer shell of this windsurfer town fool you, as the cuisine found in this region is nothing short of perfection. Fresh brick-oven baked pizza, crispy duck fajitas and mango mojitos are just some of the hidden secrets this town has to offer. Just outside of the town at the water's edge you will find Mama's Fish House, rated the #1 seafood restaurant in the state by many of those that found it before you. Enjoy.
Lahaina
Maui County has put forth much effort to ensure the town of Lahaina resembles its roots as a once thriving whaling town. With whaling long since outlawed, the town now is supported by the vibrant shops, bustling harbor, world renown art galleries as well as numerous bars and restaurants spilling their music into the street, keeping you out till all hours of the night. Few regions can boast what the Lahaina restaurants can in having a harbor located within a mile of their doors, truly defining the term fresh. Keep an eye out for the local fisherman wheeling in their catch while you dine. Pacifico's, I'O, Mala and Lahaina Grill are the standouts in this area.
With so much to choose from and likely only a week or ten days in your stay on the island, hopefully this helps you out in your decision making process. Keep checking the site before embark on your trip, as new venues open and special events occur we'll be there to keep you informed. - QR