Idaho Food and Beverage Community Meets Here
Between signature potatoes and signature spud bars, Idaho food is certainly know for a few things, but not just potatoes. Its also know for it's raging rivers that produce fresh salmon and trout that give Idaho a signature flavor. Not only that but the valleys and the mountains of Idaho are covered in cattle ranges that produce some of the finest meat around including locally grown Kobe beef, some of the only meat like it that's actually raised in America. However, if you like a more gamey taste Idaho food fits the bill. Head up to the mountains in the summer and catch yourself some fresh water fish, but head up in the fall and winter and you can find all sorts of dear, elk, and other animals you can hunt for dinner.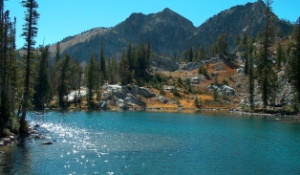 If you are into novelty, I mentioned the Idaho Spud Bar. While not most locals cup of tea, most people who come from other parts of the country and the world seem to practically crave them. I'm not sure if it's the novelty itself or if they really do like the bar, but I've know people to even use them almost like a currency. Whatever it is, people are crazy for a chocolate dipped Spud Bar. And if that wasn't enough and you're still craving a synthetic potato check out your local fair or other festivities and you might be lucky enough to find an Idaho Ice Cream Potato. It's simply vanilla ice cream shaped like the real thing and rolled in cocoa powder topped with a heaping mound of sour cream, er um... in this case, whipped cream. Y-U-M!

And if adventure is your thing look no further. Idaho has raging rivers, glorious mountains, and relaxing lake provide just that. Not only are these things beautiful, they pull people from the cities of Idaho like magnets but really who could blame them. Driving through Idaho alone is worth every penny of gas money it uses. Along the way, you'll find wonderful restaurants in hotel's with World Class accommodations and golf courses to mom and pop shops that serve up your favorite home cooked meals.
Hit the open road and stop in Donnelly and have some lip-smacking-good barbeque or head up to McCall for breakfast at The Pancake House and an afternoon of ice cream from Ice Cream Alley. Go further north and stop in the many college towns who have great deals and good food. In the pan handle you will find Coeur de lane and Sandpoint and after you play a round or two stop into a local country club and taste some local fare. If you're headed south or east stop in Twin Falls and enjoy some more college town food, land in Sun Valley and you can possibly eat with the stars in restaurants or go to bars and have a drink with them. No matter where you go in Idaho you are sure to find great food because this is where a lot of it comes from. We believe in supporting our neighbors. They use our produce and meats in their food and in turn we go and eat at their restaurants.
While you're on your journey be sure to stop in at local farms and wineries. Idaho produces some exceptional wines that can range from pricey to affordable but they are always worth every penny. While Idaho is not known for wine, people are slowly but surely discovering it and our wineries finding new customers every day. Maybe it's the mountain air that develops and extra hint of nature in the wine or perhaps its because it was made with love by someone who you may even already know. Besides wine, there are many breweries in Idaho that produce some amazing beers. Whether you like it slightly spicy, a little sweet, or
even bitter you'll find something to spin your head around. And when you stop in at your favorite farm, ask if they have an orchard to pick some of your favorite fruit from. Depending on season Idaho food growers grow almost anything, and whether you want fresh berries for jam or zucchini for bread, our local agriculture has everything for you.
Often times people do think of great Northwestern cuisine in Idaho and while you can certainly find that, there is a lot of culture in Idaho. While most people don't think of Idaho food as a melting pot you can get anything here that you can in New York. You might have to look a little harder but it's all here. And don't worry about the stuffiness that big cities come with. Most Idaho restaurants don't have dress codes. So whether you're dressed to the nines for your anniversary or just got done playing at the shore, head into the nearest town and don't worry about what you are wearing. Idaho food and beverage also has a laid back feeling so don't worry about putting your elbows on the table or kicking back in your chair. It's the locals way to relax and while you can walk in with perfect etiquette that doesn't mean you have to use it.
So folks, go hop in the car and head to your favorite destination in Idaho, or try a new one and experience Idaho food and beverage flavor and everything else Idaho has to offer!
Bon Appetit


Go to…


From Idaho Food and Beverage to City Scene