Food and Beverage Underground has been growing by leaps and bounds and we are very thankful to all of you that have been making the site such a success.

Although we are still very new and there is so much more we are planning for the site everything has been exceeding our expectations and it is all thanks to you!



As we have grown the site has taken many turns and because of your feedback we have started new sections added new topics and we are proud to announce that we are almost complete with a total site redesign that will make it much more visually appealing, much easier to navigate and it will allow us to add a forum and chat rooms to the site in the near future! Look for the new look next week!


Cheers!


---
Can't Miss New Articles
A Fluid Restaurant Menu Is A Must With
The Increasing Prices We Face Today
You restaurant menu needs to be fluid. With all the talk about recession you can bet your sales will be down some over the next several months but there are factors that need to be addressed long before you start trying to drive in more business namely costs. A bigger factor effecting the industry today is not the shrinking sales but the skyrocketing food costs we have been experiencing over the last few years. The prognosis for the remainder of this year is looking even bleaker... ...more



Summertime Brews for the Sweltering Heat of Summer
Seasonal beers have had many brewers experimenting with wild new recipes to come up with their summertime brews, while others use classic beer styles. During the summer, beer drinkers should seek these bold flavored seasonals from Anchor Steam, Sierra Nevada, Harpoon, Leinenkugel, Magic Hat, and don't forget to support your local brewery for their options as well ...more



The "Must Attend" Food and Beverage Events 2008
There are several events throughout the country that are great events to learn from, but these are the food and beverage must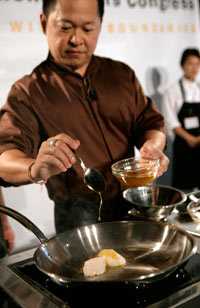 attend events. Not only are these events designed for the food and beverage community but they are a food and beverage dream. From outstanding events in the cooking world to first class wine events to the ultimate in beer parties these events are absolute musts and the cream of the crop!


If you intend on a career in food and beverage you need to attend each and every one of these events at least once in your life, what am I saying, attend them once and you'll be back year after year!



The next must attend event is the StarChefs.com's International Chef Conference - September 14 - 16, 2008 in New York City (the 2007 event pictured here). This is one you do not want to miss! ...more




City Spotlight - Detroit Restaurants




Detroit restaurants are much like you would expect in a city with the size and history as Detroit has, diverse. Yes, you can find it all in Detroit, but for the most part you can put away your thoughts of having a Trotter, Lagasse, or Puck cooking your dinner, although there are many Detroit restaurants at that level ...more




From The Road To Opening Restaurant Structure and incorporation Restaurant incorporation is a must when you are considering opening a new restaurant. There are several different types of ways and structures you can operate under, but by far the most simple and easiest ways is by forming a Limited Liability Corporation (LLC).....



New Section On The Site




We are very excited about our "Your City Scene" section. We are currently looking for food and beverage professionals that would like to be their city's food and beverage expert. We will build the section and they write reviews, tell us of new openings, events and festivals. Not only is it giving people in the business a chance to explore and expose their city to a variety of other professionals, but it is giving so many often overlooked places great exposure.


Visit some of the cities we have up already like, Robert Marcello "RAM" Brings You Portland or become an "Insider" and represent your city by letting us know your interest via the "Contact Us" page on the site.



Gift Pages

No, we are not a sales site, but we have searched the internet and have found some unique gifts for the food and beverage people on your list.


We do not look for the ordinary bottle wine or case of beer in our searches, but rather the out of the ordinary. For instance Signature wines creates personal private labels that you create to make a gift that makes that bottle special.





Food and Beverage Equipment and Supplies




We do not sell equipment but will give you guidelines on what to look for and point you in the right direction. Food and Beverage Equipment



Again we are not selling equipment, but we designed the site to

give you all the information you need to make an educated purchase. We give you the information and search through a multitude of online suppliers each month to find the best prices we can for you.


This site should be your first stop before you make an equipment or supplies purchase. Find what we have found then check with your local suppliers and do your best to beat them up in order to get the best price you can. Remember, money saved drops right to the bottom line!





New Partnership





We have partnered with CareerBuilder.com in order to help anyone looking for a job in the industry. Here you can not only find job postings there is also several resources to help further your career ...more


Growing and Growing

We would love you to be more involved in the site. As it is designed to be a community site we are encouraging everyone to get involved. If you would like to contribute to the site please contact us and let us know. We want to be able to promote each other, share our knowledge, and build a stronger industry.


If you have an article you feel would be beneficial to the community let us know and we will get it up on the site. If you know of a Chef or restaurant that we should spotlight on the site just tell us. If you represent a product that you feel the community needs to be aware of lets chat.



If it is about food and beverage we want to share it!



Also keep us informed of what you think about the site, what we should add and how we should focus our attention. We will be the site of the industry so help us grow!



Cheers!
---
Please Help Us Build Our Community
Please forward this to any and all of you food and beverage contacts and friends. The bigger our community gets the more vital information we will be able to put up on the site!


To sign up for this e-magazine Click Here
---
Equipment and Supply Links